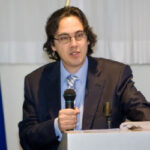 Walter Matta è dirigente senior di Leonardo SpA e professore straordinario di informatica presso la Link Campus University.
Laureato in corso e con lode in Ingegneria Elettrotecnica presso l'Università di Cagliari nel 1994, dopo alcune esperienze presso il CNR e l'Università di Cagliari, entra in Vitrociset SpA, ricoprendo ruoli di crescente responsabilità (Technical Leader, Project/Program Manager, Resp. Area Organismi Internazionali, direttore scientifico di S3log, Chief of Corporate R&D Center, Director of Strategy, Innovation & Government Funding). Dal 2022 è Vice-President nell'area CTIO della Divisione Elettronica di Leonardo.
Ricopre e/o ha ricoperto vari incarichi nazionali ed internazionali: Membro dei board di EOS – European Organization for Security) e ECSO – European Cyber Security Organization, Co-chair del gruppo SFT – Critical Soft Target and Critical Infrastructure Protection, nonché vicepresidente del Distretto Aerospaziale della Sardegna e membro di vari comitati tecnico-scientifici e cabine di regia. È esperto indipendente del MUR, del MISE e dell'EDA EDA (European Defence Agency).
Ricopre incarichi di coordinatore e supervisore scientifico di numerosi progetti di ricerca internazionali e autore di vari articoli e pubblicazioni.